5 Crystals For Burnout & Exhaustion
5 Crystals For Burnout & Exhaustion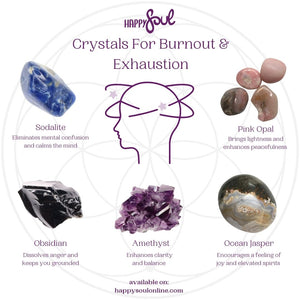 Have you been on the go nonstop? Is it starting to catch up to you? You're definitely experiencing some form of exhaustion or even burnout! Burnout and exhaustion can really make you stop feeling like yourself. While crystals won't cure your burnout lifestyle, they can be helpful in getting you back to feeling more comfortable within yourself and feeling empowered to take on the day! Not sure which crystals will be helpful for you? We're here to help! Here are five saving grace crystals for burnout and exhaustion!
This is such a powerful crystal when it comes to burn out's especially if you are having panic or anxiety attacks about being burnt out. If you ever feel like you're moving towards a panic attack, simple hold Sodalite in your hands and it will help you calm your breathing and move you through the wave of panic. Sodalite is great for enhancing the serenity of your space so leaving a some Sodalite crystals at your work stations will make such a positive difference in your day-to-day life!
With burnout and exhaustion, it can sometimes be difficult get out of the heaviness of life mentality. Pink Opal will bring you in the lightness and will enhance peacefulness in your life. This could be through your sleep or even in moment of quick meditation and breathing exercises throughout the day. Pink Opal is a heart chakra stone which is especially great for when you're burning out because it promotes emotional healing. It can be difficult to be gentle with yourself when you're overworked, but Opal will help you work through that!
With burnout and exhaustion comes difficulties in trusting your own thought process and decision making. Amethyst will help enhance your intuition and will assist in releasing any negative patterns! Amethyst is especially great when you've hit the point of over exhaustion and you're struggling to get yourself to sleep. Amethyst helps with a really great night of sleep!
Sometimes when your days are so jam packed, it is difficult to get outside and breathe in some fresh air. Ocean Jasper connects you back to nature which is actually super helpful for burnouts. The peacefulness that you experience when you're out in nature will shine right through with this crystal. Ocean Jasper is also such a great choice for when you are needing encouragement to feel joy in the midst of exhaustion.
Emotions are definitely more enhanced when you're exhausted. Anger is known to be one of the common emotions when it comes to burnout. Obsidian is a great crystal for dissolving that anger and keeping you grounded and at peace. It also dissolves criticism and fear which is beneficial when you're burnt out because a lot of second guessing tends to happen when you're over exhausted.