Celebrities Love Crystals Too!
Celebrities Love Crystals Too!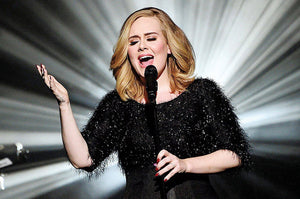 These Hollywood stars know a thing or two about crystals, and not just that they look pretty.
The New Age movement is about spiritual exploration, holistic medicine, and mysticism and crystal energy, meant to promote a healthy life. Meditation, herbal therapy, manifestation, channeling, crystals, astral projection. This new perspective on life has spread into the lifestyle of Hollywoodland and celebrities in music, movies and fashion.

New Age artifacts such as herbal teas, bells and chimes, energized candles, occult books, triangles, unicorns, sacred shapes and grids, elemental signs – and of course! – crystals (for its healing energy) are some of the most popular and searched New Age artifacts of interest.
So which celebrities love crystals?
Oprah Winfrey
Oprah confesses that her greatest indulgence is a crystal bath. "Bathing is my hobby. I love creating bathing experiences—bath gels, bubbles, crystals, salts, lavender milks..." (Oprah.com) Oprah knows what's up!

Adele
Believe it or not, even Adele experiences stage fright. To help the songstress, she turns to crystals. "I was so nervous about my comeback show and I was panicking," she revealed to The Sun. "I was out of practice and I was busy being a mum. But it was one of the best shows I've ever done and I had these bloody crystals in my hand." Adele became such a believer of their energetic abilities that she grew panicked when she lost her crystals before taking the stage at the 2016 Grammys, which she says, "turned out to be the worst, most disastrous performance that I have ever done." Now that the award-winning singer-songwriter understands the power of crystals, she can do no wrong. "I mean literally I'm turning into a walking cliché but I'm proud of it -- if it means my shows are good then I don't mind."
Sheryl Crow
The country songstress has been photographed many times wearing both Aquamarine and Citrine crystals around her neck, and is a self-confessed Citrine enthusiast. Citrine is a great crystal to place in the home, office, or on your body at any time, and it promotes wealth and abundance.
Stevie Nicks
"Now here I go again, I see the crystal visions" - Dreams, Fleetwood Mac
Stevie first sang about seeing "crystal visions" in Fleetwood Mac's 1977 hit "Dream," which helped inspire the stereotypical New Agey "look." She claims that she does not practice any spells or rituals, but her lyrics are written in a universal code revolving around mythical elements, which is something that everyone can translate to suit their own story. There is no doubt about it, Stevie loves crystals. And  crystal jewelry and candles and black dresses with long shawls and big sleeves too!

Kate Hudson

and Goldie Hawn
Back in 2013, Hudson opened up about one of her prized possessions — a gift from mom Goldie Hawn. "A crystal bowl filled with Rose Quartz Heart Crystals that my mom gave me for Mother's Day one year," the actress told Marie Claire of her nightstand staple. "She's really into energy and stones. It's a heart-shaped Rose Quartz and represents love." Rose Quartz, renowned for it's romantic properties is also used for compassion, peace, nourishment and comfort due to its soft feminine energy."
The Kardashians
The Kardashians are best known for sharing which beauty products they love. Everyone's favourite Kardashian, Khloe, recently revealed that she uses a Crystal Facial Roller for her face. "I call this my 'magic wand of beauty,'" she wrote on her website, adding that the crystal helps tighten muscles and improve circulation.
Happy Soul carries a variety of Crystal Facial Rollers, such as Jade (Green and Black), Rose Quartz, Hematite and Carnelian. See what's in stock.
Kim Kardashian West is getting in on some crystal energy too. Shortly after her horrific robbery in Paris, Kim was advised to surround herself with crystals to help cleanse her space of any negative energy, so she did! Not only did crystals become a new staple within her home, but they also inspired the packaging design for her new perfume, called Crystal Gardenia. "It is a healing crystal," the Keeping Up with the Kardashian's star told Ellen DeGeneres. "I was really inspired by healing crystals after my Paris situation. All my friends would come over and they'd bring me healing crystals. And I started to really learn... I started to really get into the meaning and the whole spirit and energy behind it. And so I thought, 'well, this would look like a beautiful perfume bottle.'"
And lastly of the Kardashians, Kylie Jenner is expanding her own collection as well. The Kylie Lip Kit creator is also a fan of crystals -- so much so that she shared some of her "favorite finds" on Instagram. Shown in the photo, huge natural pieces of Citrine, Obsidian, Chrysycolla and Smoky Quartz.
The Olsen Twins
At their Fall 2018 fashion show for Row, the twins gifted each attendee a palm-sized crystal in Black Tourmaline and Clear Quartz. Each crystal came with a note detailing its healing properties as well as instructions for how to cleanse the stone.
Victoria and David Beckham
"I'm a very spiritual person," says Victoria. "I travel with my crystals. I've got all different colors. It's just something that I'm into. I am quite a superstitious person. I don't walk under a ladder. If I see a magpie, I salute. I currently carry a black obsidian skull crystal -- it's for protection and strength. I'm really into crystals. I'm a real positive thinker. I believe in creative visualization -- the glass is always half full. I have no time for anything negative. I bought crystals for all my team, so they carry them too." (Allure) Both Victoria and David have an interest in crystal healing."We've both been into crystals since moving to LA," said David. Victoria elaborated, ''We both like crystals, as in crystal energy. I have lots of Pink Quartz and Black Tourmaline in my bathroom. It's quite spiritual out here in Los Angeles, all very positive."

Black obsidian is a powerful cleansing and protection stone. It dissolves anger, criticism and fear, and relates to the root chakra. Its properties will shield you against negativity.
Not only does Victoria travel with crystals, but she keeps them at home too: "I collect crystals and place them around my home and office to create positive energy."
Katy Perry
"I'm a huge fan of Madonna. I've got to know her and she's incredible... She had given me some advice on how to maintain my health throughout the tour. She had given me a number for a crystal healer. Everything stems from peoples' energy so it makes sense. I don't stay single for long. I carry a lot of Rose Quartz, and sleep with it in my hand at night. It's supposed to help you find love and also heal your heart. Maybe I need to calm it down with some Amethyst."
Naomi Campbell
"I do therapy every day," revealed Campbell. The legendary supermodel also shares that she's a believer in the healing powers of crystals, revealing their part in transforming her life. "I think they bring great energy. … You should see how many I travel with."
"I couldn't even start to tell you how many crystals I have," the supermodel revealed to Harper's Bazaar. "I keep a black tourmaline and a rose quartz in my bag, always. They signify protection and love, which is nice to have with you when you're travelling around the world every two seconds—not that I'm complaining. And then I bring others in my luggage."

Joan Jett and Miley Cyrus

"Crystals are a gemstone, like a ruby or diamond, so to speak," says Joan. "But there are people, including me, that believe these stones can retain positive or negative thoughts. And there are many different kinds of these stones besides Quartz. Amethyst, Obsidian, Tigers Eye, and Agate. That's just the tip of the iceberg. But these stones work only in conjunction with spirituality. Not just Church on Sunday and Temple on Saturday, but from within. I suggest you get a book on the subject, because there's a lot of them out there." (JoanJettBadRep.com)
So the verdict is in! Clear Quartz, Black Tourmaline, Obsidian, Rose Quartz, Amethyst and Citrine are favourites among the stars, and ours at Happy Soul too!
You can learn more about a variety of 52 other crystals and how they relate to chakras in our signature Happy Soul Crystal Oracle Guidance Deck, available to purchase in store and online.
Or perhaps you would like to be more involved and learn how to become a certified Crystal Master in our 4-week or (intensive) 1-day class at Happy Soul in Toronto. Register today because classes fill quickly!