Crystals for Gratitude
Crystals for Gratitude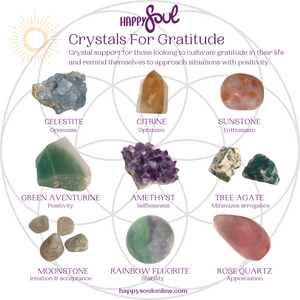 With the holidays just around the corner, there is no better time to seek and share gratitude within yourself, your family and friends and even your surroundings! It can be difficult sometimes to gift gratitude or find gratitude in your own life. Crystals are a great way to feel this energy in your journey! They will help you either transition out of a negative mindset or guide you into activities that will help you feel more thankful with your experiences! Here are 9 crystals that will be sure to leave you feeling gratitude in your life!
Celestite is a powerful crystal when you're looking to feel gratitude. Celestite is good for connecting you to the angelic universal energy. Celestite carries this gentle, soothing energy that will help you unwind and relax and reflect. Celestite is a great gift to offer someone to show them your thankful but also a great energy crystal to keep with you to feel appreciation towards yourself!
Appreciation and positivity can be difficult to find within yourself. Citrine will help you navigate this! Citrine is a manifesting crystal that will attract wealth, prosperity and positivity in yourself and your surroundings. Citrine will assist you in seeking out gratitude in your daily life!
Gratitude and grounding go hand in hand especially when meditating! Sunstone is a strong energy crystal that will essentially make you feel like a plant. It will provide you the feeling of being grounded, will provide you with that sunlight energy and help you grow into gratitude thoughts!
Green Aventurine is a crystal that is known for contributing to the heart's wellbeing. That is what gratitude is all about! This crystal will provide you with the positive energy that allows you feel empowered to put yourself first! Green aventurine is also known to help bring good luck and new opportunities!
Amethyst is the ideal crystal when you're looking to feel more gratitude or general thankfulness in your life! This high-powered energy crystal will assist in strengthening your spirituality, your psychic powers and even assist in dream recollection. With these specific aspects in your life being heightened because of the crystal energy, you will find more opportunities to feel grateful with your life, your journey and your experience. You will become more appreciative for life and your surroundings!
Tree Agate is not a common crystal, but holds so much energy when it comes to blockages in your life. Gratitude can be difficult to obtain when you are feeling a stoppage in your thoughts and feelings. This crystal helps with destructing unhappiness and opening you up to more positive light in your life!
Moonstone is an energy crystal that connects to the moon and feminine energy. Moonstone is one of the stronger crystals when seeking gratitude because the energy produced by this crystal is created solely to provide you with the transition from a difficult time to a more joyous journey. Many tend to find clarity and become grateful and appreciative when they are on a happier journey!
Rainbow Fluorite is such a fun and beautiful crystal! You will feel instant joy just by looking at this crystal. Gratitude can be difficult to obtain especially when you are not in the right mindset to do so. Rainbow Fluorite is an energy crystal that will actually provide you with mental clarity and concentration and will help you to get things done. This is a great crystal to have when you're journaling or meditating or just needing some time to reflect!