Element: Air
Element: Air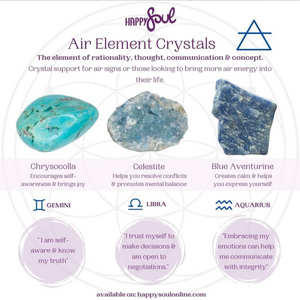 Air Element Crystals
The element of rationality, thought, communication & concept.
Crystal support for air signs or those looking to bring more air energy into their life.

Chrysocolla - Encourages self-awareness & brings joy - GEMINI - " I am self-aware & know my truth"

Celestite - Helps you resolve conflicts & promotes mental balance - LIBRA - "I trust myself to make decisions & am open to negotiations."

Blue Aventurine - Creates calm & helps you express yourself - AQUARIUS - "Embracing my emotions can help me communicate with integrity"