Incorporating Crystals Into Your Summer Beauty and Wellness Routine
Incorporating Crystals Into Your Summer Beauty and Wellness Routine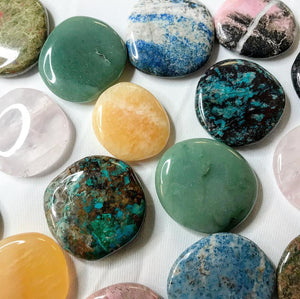 Did you know that you can incorporate crystals into your self-care routine? Summer's here so it's the perfect time to change your wellness and beauty regimen to incorporate these beautiful little gifts from nature, and here are some ideas for how you can do that in a holistic way! 
In a facial 
You can create a facial grid with different crystals to promote rejuvenation, cleansing or energizing of the skin. Lie down and place crystals under each eye, on your forehead, one on each cheek, and one on your chin. Play relaxing music, diffuse your favourite essential oils, and let the energies of the crystals soak into your skin. Rose quartz, shungite, healerite, carnelian, lepidolite and orange calcite are all perfect for incorporating into your facials. Do this one or two times a week to really reap the benefits of all that crystal magic! 
In the bathtub
Most of us think of baths as being more of a winter thing, but summer sun can be harsh on the skin! It's a good idea to soak yourself in a nourishing bath a couple of times a week to remove all the dead skin and build-up of sunscreen and lotions, because it helps to keep your skin soft and healthy. Plus, it's relaxing! Gridding rose quartz and fuschite around the bathtub helps to promote self-love, self-care and self-compassion, because when your own cup is full, it's so much easier to focus on others. 
Around your outdoor living space 
With the sun out in all its glory, many of us will be spending a lot more time in our backyards to soak it all up and spend time catching up with friends and family. Placing sunstone, orange calcite and citrine around your yard and outdoor living space will help you get that coveted summertime glow and promote feelings of joy, abundance and confidence between you and your loved ones. 
In Your Kitchen
Eating good, nourishing food is an important part of staying healthy and getting your skin to glow. Gridding diopside, green aventurine and spirit quartz around your kitchen will help you to develop an intuitive feel for the foods and nutrients your body needs to stay healthy at any given time and will encourage you to eat well and choose foods that will nourish you, body and soul. 
P.S. did you know that we have crystal sets for the bath, as well as facial grid kits? Check them out online at
https://happysoulonline.com/collections/crystal-sets
or stop by the store and see them for yourself...yes, we are open to the public! What are some of your favourite crystals for health, wellness and beauty?