Pisces-The Power of Compassion
Pisces-The Power of Compassion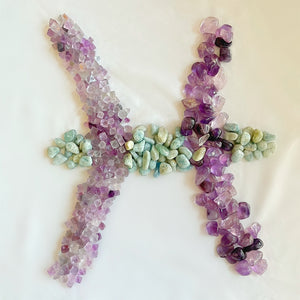 Pisces – The Power Of Compassion

Date: Feb 19 – Mar 20
Chakra: Sacral Chakra
Planet: Neptune
Constellation: Fish
Crystals: Aquamarine, Purple Fluorite, Amethyst
Element: Water
Key words: Creativity, Compassion, Intuition, Kindness, Romance,
Wellness
Birthstone: Aquamarine

True visionaries, with the intuitive perception to see the
undercurrents beneath the surface of things, Pisces are often highly
sensitive, imaginative, creative or artistic.
The astrological symbol of two fish swimming in opposite directions
represents beginnings and endings. A time for self-reflection on the
past year and uncover hidden truths for rebirth paves way for a new
cycle.
The compassionate souls of the zodiac, Pisceans believe that
helping others strengthens not only the people they help but the
community they are a part of as a whole.
By connecting to the energy of this sign, we learn to embrace the
people and situations we encounter without expectations or
assumptions, and give from the heart without reservation, knowing
that the intimate bonds we form have the ability to heal the greatest
wounds.

• Aquamarine – A stone of courage and protection. Helps
overcome judgment of others and encourage tolerance. Brings
renewal to the mind, body and spirit
• Purple Fluorite – Can help us discover our true potential and
complete projects. A stone of mental clarity and focus, clears
away mental chaos and brings peace
• Amethyst – Enhances creativity, strengthens our imagination
and intuition

By teaching us how to surrender to something bigger than ourselves,
Pisces energy guides us toward a sense of oneness with the
universe, a place where unconditional love leads to a realm beyond
the self.
The graceful lesson of Piscean's innate nature is a moving reminder
of the interconnectedness of our hearts and the power of
compassion makes the earth a better place.

Pisces Meditation with Aquamarine
Before you begin the meditation, cleanse your crystal. Get into a
comfortable position sitting or lying down. Find a place to sit
quietly with your legs uncrossed and hold your Aquamarine
birthstone.
Gently close your eyes.
Take a deep breath in through your nose and exhale through
your mouth.
Allow your breath to adjust to your natural rhythm.
With each breath, release the thoughts of the day, the week, the
month, the past year.

Visualize slowing walking into the shallow waters of a sparkling
ocean.
You are safe in this water.
With each step forward, your body is embraced by the warm
water.
Aquamarine's power is enhanced by the water.
As you float in the water, allow yourself to be still and quiet in
this moment for yourself.
Your highest self releases what needs to be let go. Allow
yourself to ascend into a new cycle, a new beginning for the
coming year.
Any thoughts, distractions or emotions that come up, release
them into the water.
If you find yourself distracted, keep visualizing swimming in the
ocean for as long as you need.
The open water cleanses and brings renewal to your mind, body
and spirit.
The open water reminds you that we are never alone on this
journey on the earth plane.
You are surrounded by your spirit guides, ancestors and
magical creatures.
What messages are you hearing from your guides as you float in
the water?
You are gifted with a capacity for unconditional love for others.
The warm ocean water brings its infinite loving energy back to
you, surrounding your being, your loving heart and spiritual
grace.
The warm water flows into each chakra travelling from your
crown, the third eye, the throat, the heart, the solar plexus, the
solar to the root, washing over what needs to be released and
recharged to become whole.
You are one with the universe.
Take as long as you need as you continuing floating in the
water.
When you are ready, slowly bring yourself to the present.
Wiggle your arms and toes. Lay down your Aquamarine
birthstone. When you find solace in your own retreat, there is a
never-ending source of inspiration and enchantment that awaits
you.
- Alitza Tyminski

References
Katie Huang. Crystal Zodiac: An Astrological Guide To
Enhancing Your Life With Crystals. New York: Houghton Mifflin
Harcourt Publishing, 2020. Pg. 177, 178, 187

https://happysoulonline.com/collections/books/products/crystal-
zodiac-by-katie-huang

Judy Hall. Crystal Zodiac: Use Birthstones To Enhance Your
Life. New York: Hachette Book Group, 2017. Pg. 54, 55, 56, 57

https://happysoulonline.com/collections/books/products/crystal-
zodiac-use-birthstones-to-enhance-your-life-by-judy-hall