money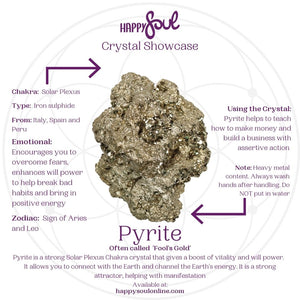 Crystal Showcase: Pyrite
Pyrite Often called 'Fool's Gold'Pyrite is a strong Solar Plexus Chakra crystal that gives a boost of vitality and will power. It allows you to con...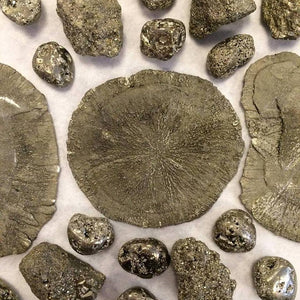 Make Money Using Pyrite
Pyrite teaches you how to make money and build a business. A strong protector by drawing energy from the Earth through the physical body and into the aura creating a defensive shield. Its male energy encourages boldness and assertive action.
Guess what? The Happy Soul Academy is now LIVE online! We're offering classes on tarot, meditation,crystal healing and all things metaphysical so go to https://happysoulacademy.thinkific.com/collections to browse our catalogue of courses and sign up.

And, speaking of online, as a thank-you for all your support and love, here is a 20% OFF Discount on your next Order on Happy Soul Online & The New Online Academy! Just Use Promo Code "CRYSTALOVE2020" Ending Soon! So Please Don't Miss out! Shop & Learn Now: https://happysoulonline.com
Crystal Bath Rituals
How much do you love your bath time? How much do you love your crystal collection? Crystal Vibration Mania is real! People have been putting crystals and stones in their homes, pockets and bath water, all around the world, and have been doing so since the old ages. Using crystals in bathing rituals is quickly becoming a rising trend (#crystalbath). Here at Happy Soul, we are often asked which crystals are safe to use in water, to raise the vibrations of your body and to balance and energize your chakras.