Happy Soul's Tumbled Crystal Chakra Sets
Happy Soul's Tumbled Crystal Chakra Sets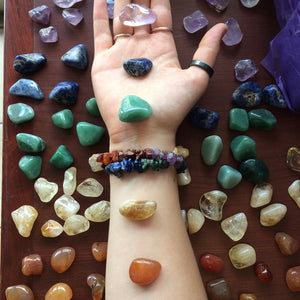 Happy Soul Crystal Chakra Sets have 7 crystals that are perfect for balancing all of your Chakra needs. Each set includes Clear Quartz, Amethyst, Sodalite, Rose Quartz, Citrine, Carnelian and Red Jasper.
Crown Chakra
Use Clear Quartz to clear, balance and energize the chakras and the aura and to amplify other crystals

Third Eye Chakra
Use Amethyst to strengthen spirituality, psychic powers and dream recollection

Throat Chakra
Use Sodalite to encourage speaking your truth confidently and uncovering your happiness

Heart Chakra
Use Rose Quartz to bring self love and universal love and create a peaceful confidence

Solar Plexus Chakra
Use Citrine to help manifest and attract wealth, prosperity and positivity


Root Chakra
Use Red Jasper as a gentle stimulator of chi and vitality; It encourages doing the right thing for the right reasons
Get a Happy Soul Chakra Set for yourself or a loved one from online or in store.
#crystals #chakra #shoplocal #toronto #the6ix #sales
Guess what? The Happy Soul Academy is now LIVE online! We're offering classes on tarot, meditation,crystal healing and all things metaphysical so go to https://happysoulacademy.thinkific.com/collections to browse our catalogue of courses and sign up.

And, speaking of online, as a thank-you for all your support and love, here is a 20% OFF Discount on your next Order on Happy Soul Online & The New Online Academy! Just Use Promo Code "CRYSTALOVE2020" Ending Soon! So Please Don't Miss out! Shop & Learn Now: https://happysoulonline.com