Mercury In Retrograde
Mercury In Retrograde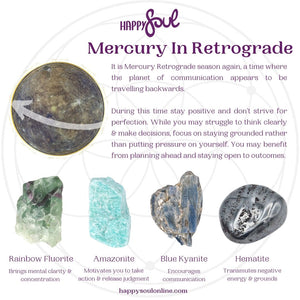 Mercury In Retrograde
It is Mercury Retrograde season again, a time where the planet of communication appears to be traveling backwards.

During this time stay positive and don't strive for perfection. While you may struggle to think clearly & make decisions, focus on staying grounded rather than putting pressure on yourself. You may benefit from planning ahead and staying open to outcomes.

Rainbow Fluorite - Brings mental clarity & concentration
Amazonite - Motivates you to take action & release judgment
Blue Kyanite - Encourages communication
Hematite - Transmutes negative energy & grounds

Available In-Store and Online.